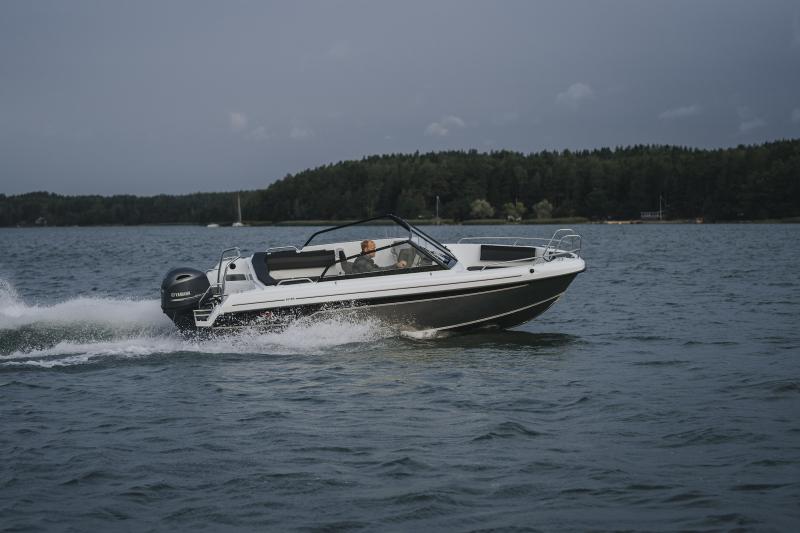 The more than 6-metre-long boat combines an aluminium hull with a GRP deck. It offers good space for seven persons and is equally at home in day cruising, water sports, coastal connections and commuting.
"The new Yamarin Cross 62 Bow Rider is a good boat for fast-paced free-time fun, and its compact size and very nice handling make it an excellent choice for boating beginners as well," says Anders Kurtén, Director, Products for the Yamarin Cross range of boats at Inha Works Ltd.
The boat handles extremely well and runs steadily even in adverse weather. Owing to its sporty nature, it is also a great companion for water sports. With the maximum recommended engine power provided by a 130-hp Yamaha outboard, the boat attains a top speed of about 38 knots.        
The Yamarin Cross 62 Bow Rider's sleek wraparound windshield provides ample protection from wind for both the helmsman and the passengers in the back. A generously dimensioned open space at the back of the boat features a good-sized cushioned seat in "U" shape. With the table available as an optional accessory, this space easily transforms into a comfortable sun bed. Additional seating can be found at the bow.
The high railings and large sturdy steps at the bow make it effortless to disembark the boat whether on a shore or at the jetty. The boat's aluminium floor is durable and easy to keep clean.
The Yamarin 62 Bow Rider has two anchor boxes at the stern and one at the bow as well as storage compartments both under the seats and within the consoles. A lockable glove compartment is situated on the co-driver's side. A fender retainer has been integrated near the bow on the starboard side.
The standard equipment includes a canvas garage, windshield wiper on the driver's side, USB/12 V socket and seat cushions. Optional accessories include an aft canvas, a table for the open space and a water sports bracket.
Yamarin Cross 62 BR – technical specifications:
Length 6.15 m
Beam 2.29 m
Weight 875 kg
Number of persons 7
Recommended engine rating 100-130 hp
Maximum speed 38 knots at 130 hp